MARKWELL

 

MANUFACTURING

 

CO

 

INC
HISTORICAL NOTES
Markwell was started in 1919 by two brothers, Lou and Abe Obstfeld, on their release from Service after World War I, having both resolved not to be employed by others again.  Lou, the elder of the two, became president and Abe was vice-president and general manager. 
The background of both was in marking devices.  Lou had worked for the Botts Manufacturing Company, who were manufacturers of specialty inks such as those for mimeographing equipment, for marking and stenciling equipment, and also handled some items made specially for Botts, such as pots, gluing equipment, etc.  Abe had worked for Binney and Smith, a company that manufactured crayons, and that later became known worldwide for their Crayola brandname.
First Trade Mark Application
Filed December 16, 1924
Registered June 16, 1925
First Product:
#150 Industrial Crayon
The Markwell "176" tacker
Introduced in 1920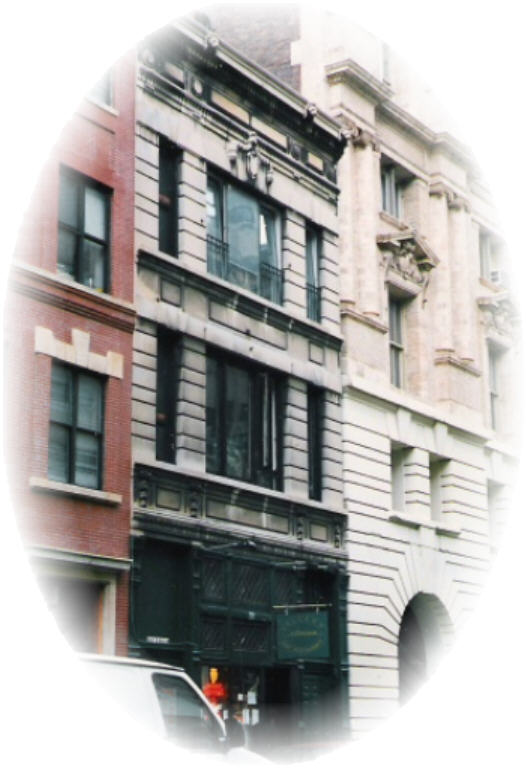 The brothers decided to form a company based on the products of which they both had knowledge in the marking field – hence the name Mark-Well.  They had products made exclusively for them and their first product, the Markwell #150 industrial crayon, was reluctantly discontinued in 2005.  They discovered a company, Acme, owned by a man named M. S. Cook, that made stapling machines, and had a stapling machine made for themselves.  The Markwell 176 two-hand strike tacker, operated by holding in one hand and hitting the driving rod with the other, was so named because at the time the company was located at 176 Franklin Street, Manhattan.  This stapler was made exclusively for Markwell.
176 Franklin Street, New York
Shortly thereafter, a visiting South African by the name of Harrisburg, found the 176 stapler a novelty, and took it back with him to start his own company selling staplers, in Johannesburg, thus founding the African Commerce Company. 
Markwell's first employee was a man named William Drypolcher, who went to school at night to become and engineer.  He was probably responsible for the evolution of the RB type two-hand industrial strike tackers, using staples larger than the 176.  It was he who developed the idea of a single-handed spring operated squeeze tacker, that could be squeezed with one hand, while holding the product being stapled with the other.  But because the cost involved in making this machine, such as tools and dies, was beyond Markwell's ability to cope, they approached the Boston Wire Stitcher Company, located in East Greenwich, Rhode Island.  This company later became Bostitch Incorporated.
The Boston Wire Stitcher Co was primarily in the stitcher, bookbinding and matchbook business, and the likes, and was owned at the time by a gentleman named Leonard Lawrence, and he had as his assistant and chief executive officer, a man by name of Joseph D. A. Whalen, who took a liking to the two young brothers, and decided to make the machines for Markwell as well as for themselves.  They made the Bostitch machine in black, and the Markwell machine in blue, and the staples were different so that they were not interchangeable.  It was as result of Markwell introducing their patented tacker to them, that Bostitch entered the staple industry.
During that time Lou and Abe further divided their responsibilities, with Lou becoming involved in purchasing, and having staple making equipment made for them so that they could start making their own staples.  Abe, on the other hand, handled the sales side of the business, trying to locate able salesmen and turning them into distributors.  Lou and Abe did not get on well with each other, so the divisions were very separate, and employees working in one section tended to keep apart from the others.  Abe was an avid Giants fan, Lou favored the Dodgers. 
In spite of these tensions, the brothers ran a very successful company.
During the 1930's, Markwell's early employees included the following:

            Lee Grafton Greenfield, switchboard                  Esther Karp, A.O's secretary
            Claire Greenfield Spiegel, office clerk                 Betty Friedman Frank, L.O's sec.
            Bernie Goldsmith, Sales                                     Irving Kaplan, Sales
            Henry Koval, Sales                                            Norman Spiegel, Sales
            Ann Baron, bookkeeping                                    Kate Slotsky Shimansky, sec.
            Laura ?                                                             Jack Conway
            Sidney Lindenbaum                                           Henry Heitmeyer
            Sol Obstfeld
Sam Fowler, Henry Heitmeyer, 1941
At the height of its growth under Lou and Abe, Markwell employed a total of approximately 33 people in 1954.  Markwell also operated its exports under the name Markwell Export, and manufactured its staples under the name Wyrestapes, Inc.
In the history of the staple making industry, one of the earliest manufacturers was a company called Hotchkiss (now no longer in business), situated in Bridgeport, Connecticut.  Staple equipment was very non-sophisticated in those days – originally a single staple was fed into a machine, and used to staple two pieces of paper together.  Multiple staples were first fed into machines loose, by having them stored on a disposable tiny rail, and held in place mechanically with a clip, running the length of the rail.  After that they came up with the idea of putting formed-wire single staples in a long row (as today's staple strips) on a piece of glued paper, and these were then pushed manually into position, but this still did not work too well.
DuPont promoted the advent of glued staple strips, as used today, by developing a cement that would hold wire staples together, allowing a strip to be handled, fed into a stapling machine, and pushed forward to the stapling position by a spring. 
Markwell, together with Hotchkiss, Bostitch and Acme, were the leading staple making companies of their time. 
Markwell got involved in desk-top stapling through meeting a gentleman named Otto Attula, who took on production of some of the Markwell desk machines, such as the old F machine, which was a forerunner of the RF machine family.  Many of the machines being developed at the time by another Markwell engineer, Fred Schmidt.  The F machine used a staple that was straight (square) across the top, and Markwell developed and patented a racked, or diagonally displaced staple so that no others could be used in their machines.  This led to the further development of the RX and SX machines, using the same type of patent, but with smaller staples. 
Growth was slow and tough at the time, because of the Great Depression, and sales were not often come by.  Abe persisted, and gave rise to some of the leading distributors of the times.  In November 1925, he hired Harry Fishstrom on the Pacific Coast to start the Pacific Staple Company – slow going initially, but Abe, Lou and Harry stayed with it, and eventually Harry wanted it on his own, calling it Fishstrom Staple, and covering all of California for Markwell.  Harry's brother, Frank, ran the Los Angeles branch in the 30's and 40's. In 1946, the Fishstrom Staple Company had three locations:  88 First Street, San Francisco, 608 Sixteenth Street, Darland, and 122 E 7th Street, Los Angeles.  Harry was succeeded by his son, Don Fishstrom, who retired from the business around 1990.
Shortly thereafter, Abe met Herbert Crispo, who also wanted to be in the staple industry, and he formed Crispo Staple in November 1925, representing Markwell in Canada.  Al Lipton started Lipton staple in Dallas, TX, in the early 40's, and grew the business to multiple branches in Fort Worth, Houston, Corpus Christi and San Antonio, before handing over the reins to his son, Phil, in the late 80's.  The business was bought out of bankruptcy in 1995.  Other prominent businesses started with Markwell distribution during or immediately after WWII, include Robert I. Berman of Boston, whose family spawned Capital Staple, Albany (Ernie Berman), Alles Corporation, Boston (Ike Berman), Alles Southeast, with branches in Miami and SC (Bob Berman).  Sam Ortner started S. Ortner Company in 1930, becoming Seal-O-Matic, in Newark, NJ, and was succeeded by his son, Mel Ortner, who moved the business to Colorado, around 1994.  Carl Carlson started Carlson Packaging in Omaha, NE, also in 1930, taken over by his son, Don Carlson, and now has branches in a multi state area of the Midwest. Anthony Megna started Anthony Company in Miami, in 1946.
Other early Markwell distributors were Bill Cannon, Lake Stamp Company, Salt Lake City, Utah; Ed McClain. McClain Staples and Supply, Denver, Co.; Spicer of Empire Staple, also of Denver, Co. 
Ken Hill, started Hill Stapler in Baltimore, MD, sold to Matthew Braxton before failing in 1989.  Harry Hodes began Hodes Packaging in New Haven, Connecticut in 1941, eventually taken over by Tracy Flanagan, and failed in 1991/2.  Markwell itself operated a branch in Syracuse, NY in the 60's, run by Ben Corby and Gordon White, to compete with Bob Fischer, their star salesman, who had been cut off for also selling Arrow, and had started his own company, Salco, in opposition to Markwell in 1941/2 .  Markwell's own long time agent in Buffalo, Fred Robinson, retired when in his 70's, in 1988.
The earliest recorded European distributor for Markwell products was Heinz Buhnen, which association arose from Lou's first European trip in 1930.  Lou traveled at least one more time to Europe, attending the World's Fair in Brussels in 1935.  It is not known what transpired during the War years, and the relationship continued until 2001.
200 Hudson Street, New York
Lou and Abe had a younger third brother, Sol, who started his own Markwell distribution business, Tiglon, from "tiger" and "lion", in 1945, when he was discharged from service after WWII.  Tiglon operated from the offices of Markwell at 200 Hudson Street, to where they had moved in 1930, after three years at 99 Hudson Street, which was their first move in 1927.  The three brothers were not the only family associated with Markwell's fortunes: a cousin, Mannie Obstfeld, acted as attorney, and Abe's cousin, Mark
Eison, of Rolsen Press, was involved in all their printing.  In 1954, Abe's son-in-law, Mort Newburg, joined the company.  
Around this time, the South African, Harrisburg, was succeeded by his son, Ronnie, who
grew the company into a major packaging company, Afcom, (now Afcom/G.E.Hudson) that
not only still distributed Markwell products, but also manufactured its own proprietary products.
Markwell again moved in 1955 to 424 West 33rd Street, and it was at this time that they acquired heavy equipment, a 35 ton and a 10 ton Bliss press to manufacture their own Desk Mate office stapler, designed by Fred Schmidt. This gave rise to the companion Pro-Plyer stapling plier. Production of both tools was discontinued in 1990.
An early Markwell development:

Electric desk stapler, 1951

Incorporating the RF Staplemaster

front-loading desk stapler
Also in 1955, Abe bought out Lou's part ownership and continued as sole owner until his retirement in 1960, when sole management and a vice-presidency was conferred on Mort Newburg.  He assumed the presidency of Markwell in 1961. Abe and Lou both passed away in 1966, Abe succumbing to a heart attack.   Mort ran the company until failing health forced his retirement and the sale of the company to Afcom (African Commerce), their South African associate.
Under Mort Newburg's stewardship, Markwell relinquished its strict injunction on its faithful distributors to sell only Markwell products, thus permitting their survival and growth.  He also formed Markwell South Africa together with Afcom, to manufacture staples there, and continued other international distribution with the likes of Buhnen, Germany, Einkauf, Switzerland, Panos Lingonis, Athens, and Egilsson, Iceland.  In 1987, Mort's daughter, Patricia, was appointed vice-president.
Mort Newburg, 1961
In 1985, Markwell again moved, for the first time in its existence out of Manhattan, to a new location at 20 Jones Street, New Rochelle, NY.  It was at this time that staple manufacturing ceased and the machinery was dismantled.  Progressing arthritis forced Mort to retire, and Markwell was purchased in late 1987 by Afcom, who had acquired the USA distribution rights for Fasco pneumatic tools.  Mel Eisenberg was hired as president of Markwell/Alliance and sales offices opened in Los Angeles and Houston, while Patti continued in charge of Markwell products.  After a fruitless year of trying to break into the US air tool market, Afcom closed the Alliance section, and sold the original Markwell portion in September 1988.
It was prudent to relocate Markwell to the Boston area, which was accomplished at the end of December 1988, to their new address at 616 Pleasant Street, Norwood.  At that time, the Markwell employees numbered 4:  Sam Opland, a bookkeeper, a warehouse manager, in Norwood, and Patricia, as VP sales, in New York.
Assurance was secured, as a Gentleman's Agreement, that Bostitch would continue to manufacture both stapling tools and staples for Markwell, which they had been doing since the 1930's.   It soon became evident that the small Markwell product range (essentially industrial manual tackers and pliers, all made for Markwell by Bostitch) was not able to sustain the company.  Also, the many original dedicated Markwell distributor principals were all reaching retirement age and were due to dispose of, or close, their businesses, thus reducing Markwell's marketability.
A strategy to expand into the industrial/pneumatic market, to secure partnered distribution and to contemplate own staple manufacture was launched.  In order to achieve these objectives, Sam acquired a partner, Cyril (Saul) Rozowsky.  Together they embarked  on setting up pneumatic tool and fastener sales in the north-east, out of Norwood, and purchased a number of used staple making machines to start own manufacture again.  They also entered into negotiations with Tony Megna, of Anthony Company, Florida, to purchase his company on his well earned retirement – Tony had started as a repairman with Markwell in 1941.  This was successfully concluded, and Marcos Gutierrez, Jr., and Maria Barrios, of previous DuoFast experience, entered as the active principals of the newly named Markwell Florida, Inc.
1994 was a busy year for Markwell, as not only did most of the above take place then, but another major significant event occurred – the Bostitch Company, purchased by the Stanley Works some years earlier, advised Markwell that they would no longer manufacture any product for them.
Markwell had already been developing replacement parts for its tools with a manufacturing company in Taiwan, and now threw its concerted efforts into replacing all the Bostitch-manufactured tools with like products from Taiwan.  The responsibility also fell on the fledgling staple unit to immediately assume the full burden of staple production. 
In  early 1996 a sales agent was hired in the Buffalo area to restore Markwell's presence there, and as the local business grew, Markwell Fastening, Inc., was formed in 1996, with Mark Ciofani, also previously with DuoFast, as principal. 
In 1999, Markwell opened its own office in Taoyuan , Taiwan, to oversee and co-ordinate its manufacturing and sourcing there.  Markwell Fasteners ROC Co Ltd was ably managed by Hugo Lin until its closure in December 2009.
Markwell Florida, Inc, was purchased entirely by a partnership of Marcos Gutierrez Jr., Maria Barrios and Jorge Chipi, in January 2003, and became a totally independent company.  The inventory and customer lists of Markwell Fastening, Inc, was sold to Numax, Inc., in March 2004, and the location in Buffalo, NY was closed.  In January, 2008, Markwell acquired the assets of Fast Pack LLC, and their principal, Jeff Cobb joined Markwell as Marketing Director.
In October of 2009, after a brief illness, Mr Saul Rozowsky passed away.
Jeff Cobb and Eileen Beatrice, Markwell's long-time bookkeeper/manager,
were welcomed as new partners.
Saul (Cyril) Rozowsky
1930 - 2009
In January, 2011, Markwell relocated to larger premises down the street, to afford the increasing shipping traffic easier access, and is now located at 692 Pleasant Street, Norwood, MA.
Markwell Manufacturing Co Inc. continues to promote specialty stapling and fastening tools and staples under its own brand name, as well as other leading vendor products.  Its growing market continues to include the USA, Europe, Japan and further afield.
©
Sam Opland, President
Norwood,  MA
June, 2011